The first Crossroads scheme was started in Rugby in 1974.
Dudley Crossroads began providing care services in 1982, expanding year by year.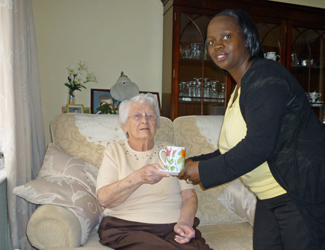 View our latest annual report and also our latest Care Quality Commission inspection report from 11 July 2019 - in which we received a CQC overall rating of Good.
Dudley Crossroads is a non profit making organisation.
Dudley Crossroads is a company limited by guarantee.
Registered in England No. 3172254
Our Commitment to Making it Real

Dudley Crossroads seeks positive outcomes for all the clients we serve, helping them to improve their quality of life.
We want people to feel in control of the services provided to them, to have choice and flexibility offered by staff they can trust and rely on.
Our staff are Dignity Champions and dignity is at the heart of everything we do. We view all clients as individuals with personal likes, hopes and aspirations. We embrace and respect this uniqueness.
Our care does not come in pre-defined packages - it is tailored to individual needs and desires.